Fall is a Time for Remembrance
Off Grid CTO: Fall and Remembrance
Welcome to the next post in the Off Grid CTO blog about my experiences working as a CTO off the grid high in the mountains of Colorado. I work for a great company called ModelOp, where we design cutting edge software for managing your AI models in the enterprise environment. It is an exciting place to work as we lead the industry in this space. BTW, we are hiring!
Today we are going to explore the past, as fall is upon us and the seasons are rapidly changing. As we struggle to get that last bit of firewood put up to keep us warm all winter, and get as many of the unfinished tasks done that we had such great hopes to complete when the snow was melting, it is easy to get lost in hustle and bustle of preparing for the return of the snow.
The People That Built Us
We as humans are like every great project, be it software or any structure, in that in order to be sound it has to start with a great foundation. The skills and knowledge necessary to live in an off grid situation can be taught, but the will and drive have to exist in order to get it all done. Many challenges you never expected to occur happen with little notice up here, so you have to be both mentally and physically prepared to deal with them. Our parents help to give us that great foundation, and my Mom was one of those people.
As a youth I lived on the edge of the woods in suburbia near Boston, and the time I spent there helped to prepare me for living this lifestyle. At a very young age I learned to chop firewood, camp, and hike. As a youth I learned to cross country ski and was on the cross country ski team. My mom would take me to these events and spent much time with me letting me both succeed and fail on my own. We attended orienteering competitions together when I was a youth where I learned to use a map and compass to an expert level. We went on family camping trips where I learned basic outdoor skills like how to build a fire, fishing, and simply just being outside and learning to listen to nature.
My mom was helping to build a foundation that I was to depend upon heavily later in life as I ventured forth on my own.
Building the Structure On The Foundation
As I grew up, she was amazing in letting me learn on my own with both successes and failures. Rather than coddle and protect me, she allowed me to challenge myself in very trusting ways.
I remember when I was a young teenager and really wanted to move into backpacking. I had been planning the family hikes for years and basically leading them, including hikes with the Appalachian Mountain Club and wanted to do a solo backpack for five days. The rest of my family preferred to just do day hikes. My mom drove me to the trailhead (I was not yet old enough to drive) and dropped me off at that trailhead with a plan to meet up in five days due north over the largest mountains in NH. We waved good bye and I thought nothing of it at the time and headed off.
Looking back I can't imagine the feelings and fears she must have had, but she trusted in me even at that young age. Sure enough that trust she put into me built an inner confidence that I carry through to this day. And yes, obviously everything turned out fine, I had a wonderful time, and was at the trailhead well before our meeting time. After all, when someone trusts in you, it is very important to follow through on that and exceed their expectations.
Another time I remember bringing one of my friends home from college over winter break, as we planned to do a winter expedition up the second tallest peak in NH. It was going to be cold, but we had no idea how cold it was going to be. The temperature dropped to -60F, and the winds picked up bringing the wind chill down to -110F, the coldest I have still yet to experience. We were prepared and fine, albeit tired and cold.
Unbeknownst to us, two other hikers were on the other side of the mountain that night and were not as prepared and perished. My poor mom was at home hearing two hikers died on that mountain the night before. This was well before the age of cell phones, so she had to wait to see if she got a call, or if we pulled into the driveway. Fortunately, we pulled into the driveway and she was there with a big lasagna ready to feed two hungry hikers. Oh what we put our parents through.
These experiences where she trusted in me to learn and be there for me when I failed helped to strengthen me as an individual where I could go on to many great things later in life. It gave me the strength to start and lead software companies, as well as to serve as a volunteer on Search and Rescue for 13 years where I helped to save many lives. She was proud of these accomplishments and what I had become.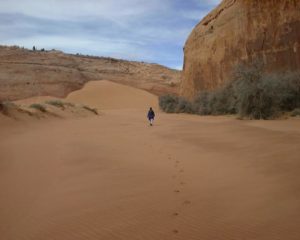 And We All Fail At Some Point
Successes are easy to remember and enjoy in our memories, but it is our failures and how we handle them that build the strongest character. In that our parents are often there to help us to overcome those times when perhaps the challenges in life become too great for us as individuals to handle on our own.
It was the summer of 2003 and my company I was working for at the time had gone through a massive financial collapse. My marriage of the time had also ended as well, and it was a time to start a new chapter in life and decide what was next. Fortunately, after years of working hard for the company, I had received a severance and decided it was time to try something different for a little bit and to take on a new kind of challenge. I travelled here to Colorado to visit a friend, and found the very lot and cabin I sit in today writing this post. I had found a new home, and with it, a new kind of challenge to experience.
My mom decided she wanted to help me out and travelled out to Utah to help me pack up the U-Haul with all of the supplies, furniture, pipe for the micro-hydro electric system I was to build, and all sorts of other things. She was to spend a month with me helping me prepare for my first winter in the wilderness, as well as I am sure she was there for the emotional support as well.
So we drove across the desert of Utah. In her lap was my cat in one carrier, and my parrot in another. It was hot (as it was August) and every time my mom would try and eat a chip, the parrot would steal it from her hand and laugh in the way that parrots do. It was a memorable trip as I set out to begin my first off grid experience.
We arrived in the area the day before closing, and we stayed with a friend. Immediately after closing we went to the cabin that was now mine, and gutted the place and fixed up the basics on the very first day. Having grown up on a farm she was no stranger to hard work, and we both got an amazing amount done that very first day. The individual who had sold it to me showed up and actually regretted selling the place after he had seen what in one day we had turned it into. I am very grateful for the hard work ethic she instilled in me, and the support she gave me that late summer.
That First Fall
She was amazing to have there that first fall as I stumbled through such things as building my electrical system, which at the time was micro-hydro electric. I needed to put together over 400 feet of 6 inch HDPE pipe. This requires a special tool to do, and I had hired someone to bring it in and do the work for me. He showed up with the tool, but his crew did not. We were on a super tight schedule to beat the winter, so sure enough, my mom jumped right in and helped haul pipe down and get it in line so he could attach them together. We did this 25 feet at a time for the full 400 feet through the woods in a single long day. The younger guy who brought the tool was impressed, and I think feeling a little guilty about my mom working on the pipe while he just sealed them together. Oddly, I never got a bill from him for the work….
Well that fall was a busy one to make sure we were ready for winter. I moved in at the beginning of August with no electricity, no firewood, and little knowledge of everything that would have to be done. But my mom was right there helping me get ready. Fortunately, we did take some time to also experience the area and take a break from all those chores. We drove to many of the local and hidden spots around here to enjoy the fall colors, and spent time just talking and enjoying all that nature had to offer. I am very grateful for those memories and that time.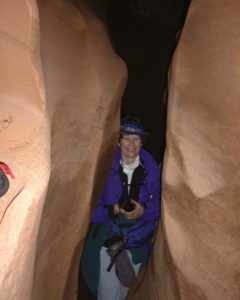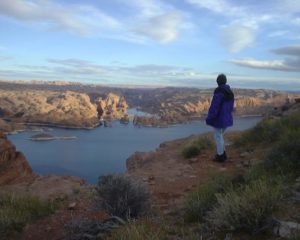 Make Sure to Take a Break
As I scramble this fall to get ready for this winter it is easy to get lost in the chores. There is always more to do than you can possibly get done, so you have to concentrate on the most important tasks and let other ones go until next year.
But more importantly, it is important to take breaks and do things in the here and now. My wife and myself have purposefully this fall set a time when we were 'done' for the day. This could be to take a drive in the UTV and spend time together talking and enjoying where we are at, or maybe just sitting on the deck in the last of the warm days in the sun and enjoy a beverage and some tunes. These breaks are very important in life.
Unfortunately not too long after that fall, my mom started forgetting things at an ever increasing rate, and in not too long, would not even remember who I was anymore most of the time. We would occasionally get to have a conversation about the past, but for the last several years it was beyond her ability to even do that.
Just yesterday I saw a call from my brother on the phone line, and my heart sank. My mom passed away in her sleep and I will never again get her support and guidance that I received over the course of my life.
So as we all get busy with the fall chores, please make sure to take time to make life memories as well. It is far too easy to lose ourselves in everything that must be done, and forget the most important things in life. Life must not only be lived, but enjoyed.
Next post, we will look at some of the lighting projects I have been doing here at the cabin as we prepare for the long winter nights ahead.
Thanks for joining me,
Jim Olsen, Off Grid CTO